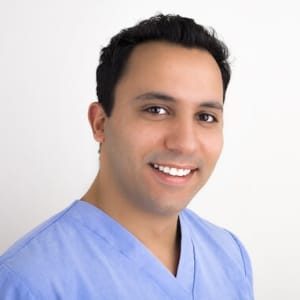 Dentist Dr. Amir Guorgui provides a wide range of dental treatments and services at our Mississauga dental office, including surgeries and sedation for anxious patients.
Dr. Amir Guorgui attended the University of Toronto where he completed an Honours Bachelor of Science degree. He completed his Doctor of Medical Dentistry degree in 2001 at the University of Montreal.
Dr Guorgui then continued his postgraduate education with a residency at the New York Hospital of Queens in New York City. He has been continuously committed to advancing his surgical and sedation training by completing many implant and sedation residencies.
Guorgui has recently earned his Masters from the College of Sedation, which recognizes his commitment to providing the highest quality sedation services to his dental patients. He is one of a select few dentists in Canada who have earned this very prestigious title.
Dr Guorgui has also been recently awarded fellowship status with the International Congress of Oral Implantologists (ICOI). Dr Guorgui currently practices in several private dental clinics in the GTA.
Amir is passionate about helping to educate his patients on their overall oral health while also focusing on their individual needs. He performs oral surgery, wisdom teeth extractions and implant placements at our office.
Sedation Services
Request Appointment